What is Care Connect by Optum?
Care Connect is a new behavioral health benefit for select employers that is designed to provide fast access to quality mental health care. Developed in partnership with Optum, Care Connect's goal is to make it easier for employees from participating companies to easily access great care quickly.
Why use Care Connect Benefits?
Care Connect offers a streamlined experience for finding great therapists who are committed to ensuring clients can schedule their first session within five business days. 
How does Care Connect work?
To take part in this program, you must be currently employed at a company that offers Care Connect as a benefit. Some of the largest employers in the technology, pharmaceutical, energy, and healthcare industries are participating in this program. You can visit your employer benefits site, myUHC.com, or Optum's Live and Work Well site to check your availability.
If your employer is enrolled with Care Connect, you will be able to find therapy referrals in your area through a direct pathway from Optum's Live and Work Well benefit site to a curated Alma directory. There, you can filter your searches by provider identity, speciality, degree, language, and therapeutic style to find the best fit for your needs.
You can find a complete walkthrough of the process below. 
Are there limitations on number or length of sessions covered by Care Connect?
No, there is no difference in coverage between Care Connect and your regular insurance benefits.  You can coordinate directly with your provider to decide how often and for how long you will meet. 
How do I find an Alma provider through Care Connect?
To find an Alma therapist through Care Connect, you can navigate to Optum's wellness portal and log in using your Optum credentials. From there, scroll down to the Alma logo and select "Browse provider profiles."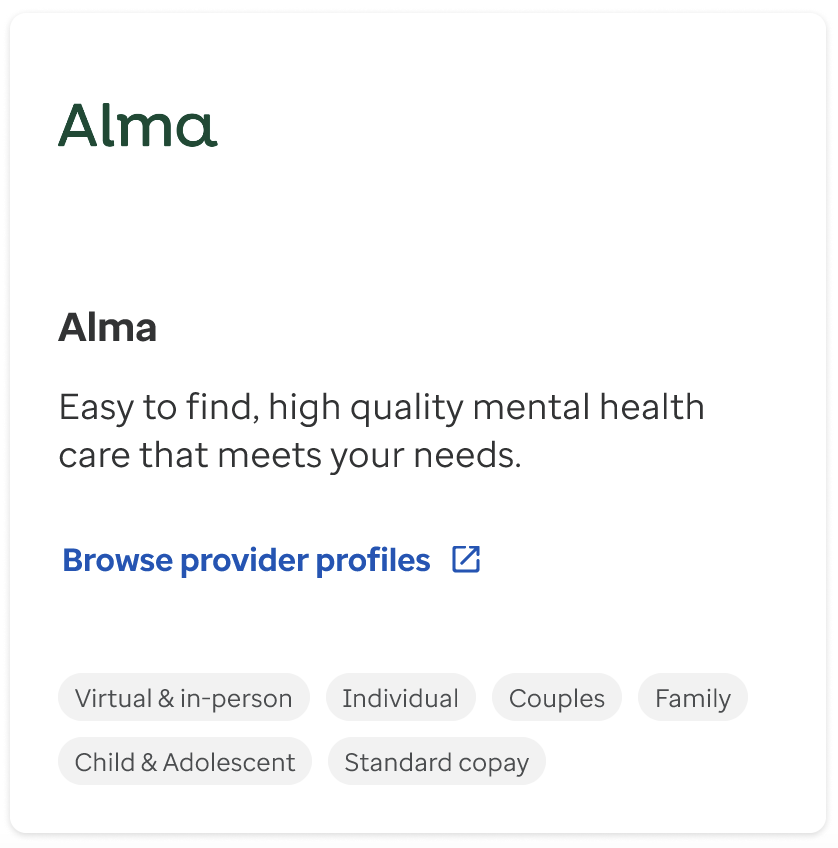 On Alma's Care Connect-specific landing page, you can enter your ZIP code to search for Alma providers in your area who have also opted into the program.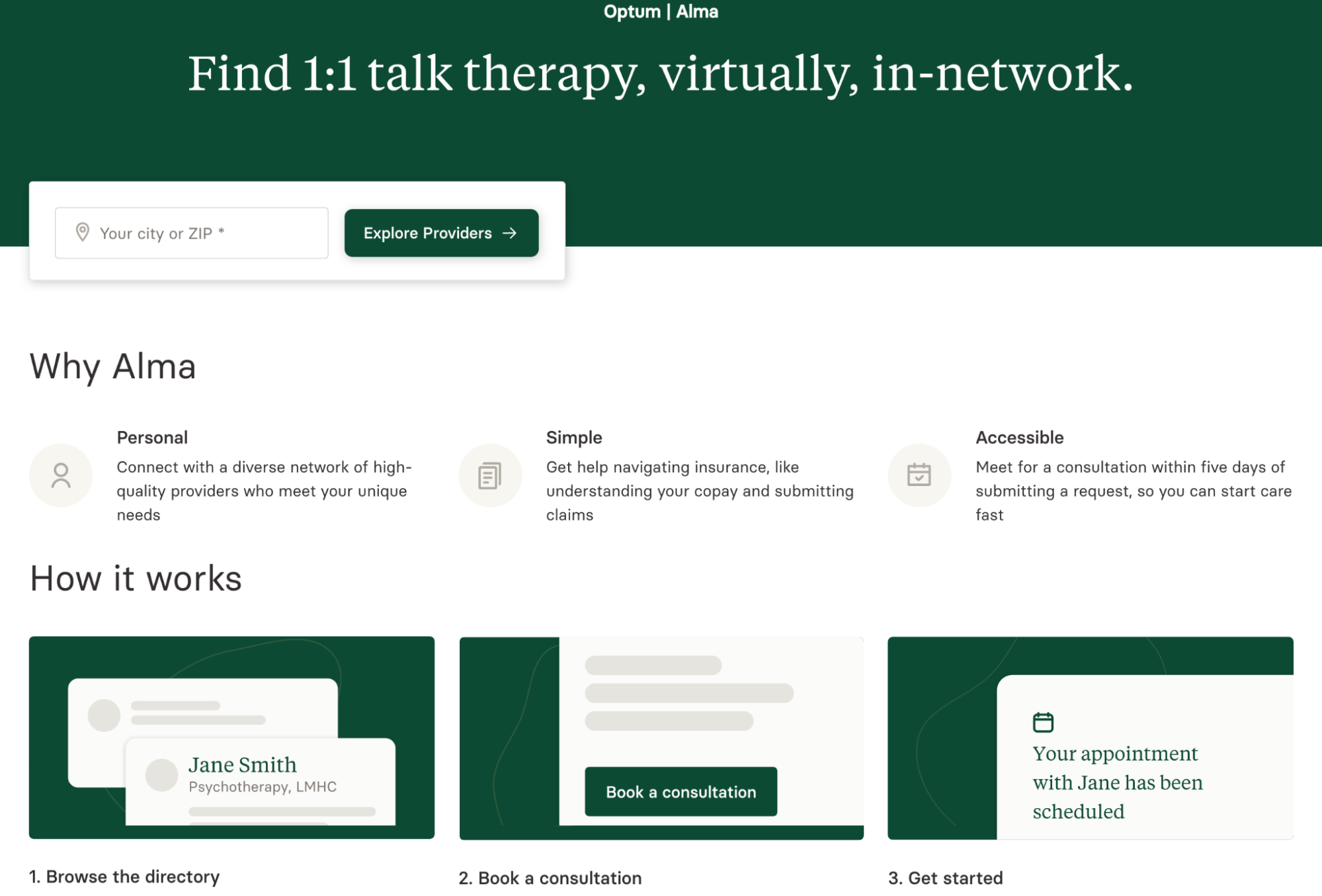 You can further filter your searches in Alma's Care Connect landing page by provider identity, specialty, degree, language, and therapeutic style. If you are interested in working with a specific provider, you can click on a provider's profile to learn more.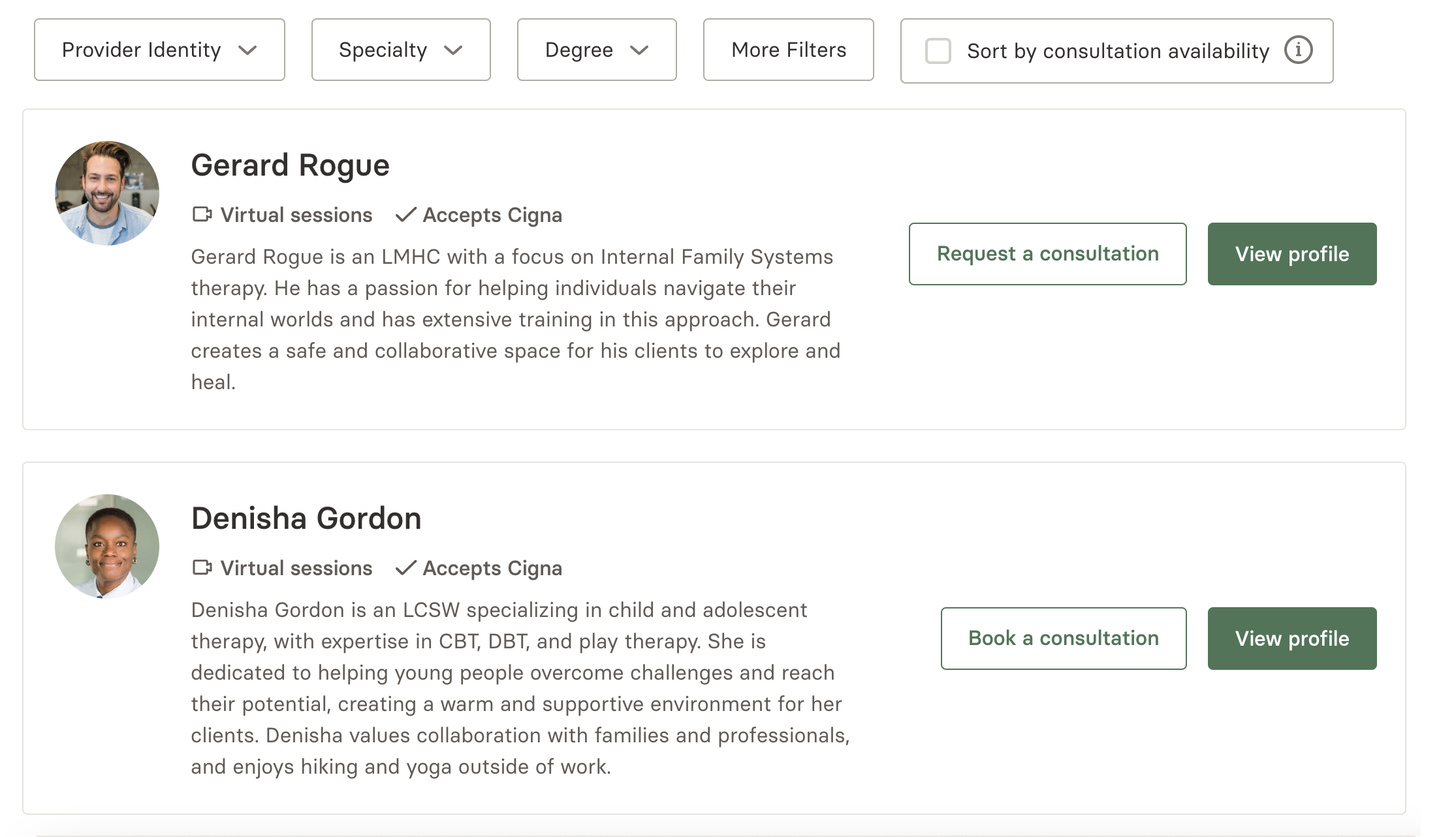 If the provider offers instant booking, you can select "Book a Consultation" and find a date and time that works for both of you to schedule a 15-minute call. 
If the provider does not offer instant booking, you can select "Request Consultation," and the provider will reach out directly to you within 1 business day. For a helpful set of questions to make sure your provider is a good fit, review our Tips for Consultation Calls. 
If your search does not turn up any results, try reducing the number of search filters to broaden your results. If you still do not see any available therapists in your area, you can click "Talk to Our Client Matching Team" to fill in a brief intake form. Our team will review your responses and conduct a detailed search for providers at Alma who meet your criteria, participate in Care Connect, and have availability within five days.
We will then send you a list of personalized provider recommendations to review. We encourage you to schedule a consultation with any of the providers you'd like to learn more about.
Upon booking or requesting a consultation, if you are a participant in Care Connect, you will have the option to enable individualized data sharing with Optum for purposes of helping fuel personalized health recommendations.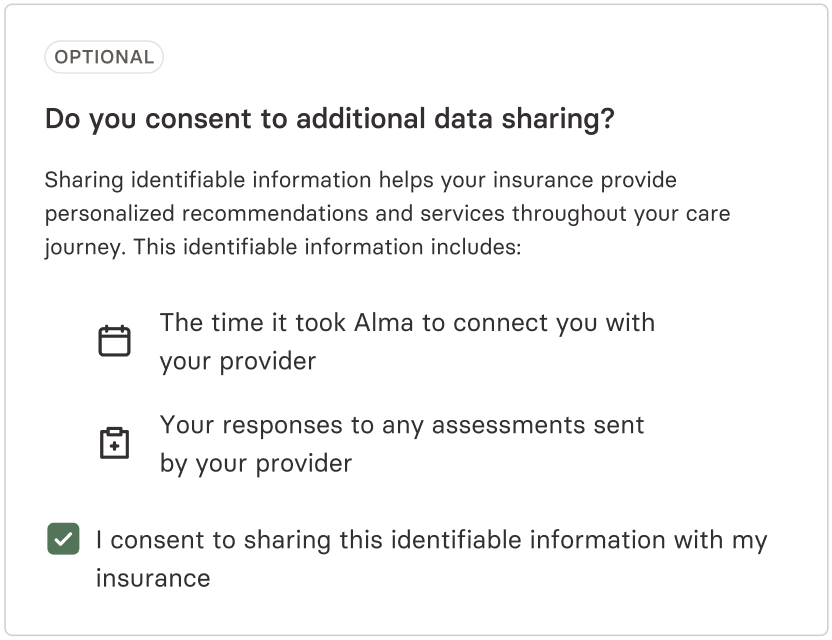 Please note that Alma will never share identifiable information without your consent, unless required by law. For more information about the information Alma collects, see Your Data Privacy and Optum Care Connect. 
If you and your provider decide to move forward after meeting for a consultation, you will automatically receive two brief mental health assessments before your first full-length session to better support your care.
How does Care Connect protect my data?
At Alma, we understand the importance of privacy and are committed to transparency about our privacy policies and safeguards for Alma providers and clients. You can find full guidelines for what and how we collect data, as well as the choices you have with the information we collect, in our Privacy Policy. 
Alma won't share any identifiable information without your consent (unless required by law). Aggregated versions of your data may be shared according to HIPAA regulations for reporting purposes only. 
This means that your data (minus any identifiable information) will only be presented as part of a high-level summary of data from other Care Connect participants, without any way to connect that data back to you individually. Alma and our partners use this data to make sure you're receiving the best care possible through your care journey. 
For more information on Alma's privacy and collection practices, including how we protect private health information, click here.